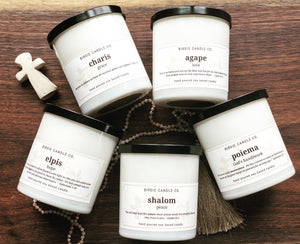 Abiding Words Collection
---
"If you abide in me, and my words abide in you, ask whatever you wish, and it will be done for you."
- John 15:7
God's word is living, life giving, full of infinite wisdom, and in the most beautiful way, shares the story of God's love for us from the beginning of time.  Since I began reading scripture, I have always enjoyed learning more about the Greek (or Hebrew) root words and exploring the other verses where they are used.  It helps me to connect to the passage and see continuity through different authors. 
The Abiding Words collection celebrates a few of my favorite Greek and Hebrew words, and provides a scripture reference for you to mediate on each time you see the candle.
This collection utilizes a few of my favorite existing scents in the Birdie collection:
agape - love : red currant
charis - grace : dogwood splendor
elpis - hope : peace, love & asheville
poiema - God's handiwork : fig tree
shalom - peace : raleighwood